20,000 #SUPERCOCO NFTs became Corals
​
When the NFT collection is sold out each #SUPERCOCO NFT is represented by a unique coral. Small specimens of coral are collected from a healthy "donor coral" under our experts' supervision.
After collection, the samples are placed on the art installation BLUE MARK LABYRINTH (BML) to let them grow 9-12 months.
​
The BLUE MARK LABYRINTH is a 1-acre underwater art installation used to grow corals. This coral nursery will house around the baby corals, creating a unique marine labyrinth involving the spectator so everyone can enjoy diving.
​
Everyone is welcome to visit this coral nursery online every week in real-time as well as in-person by scuba-diving.
BML: Our Coral Nursery
​
The 20,000 corals are collected by cutting them into small, finger-sized pieces called fragments and mother colonies to create our Ocean-based coral nursery.
​
We use 200 coral tree frames, made of PVC, to hang the smaller pieces of coral together in large groups. The coral tree frames hold the mother colonies and coral fragments.
​
The mother colonies allow us to propagate our coral trees' population. The coral tree frames are refilled with coral fragments that were cut from the mother colonies. From one small cutting, we will add thousands of new and stronger corals every year to embellish our BLUE MARK PARK REEF!
​
When these corals grow back, the cycle continues. This process allows thousands of new corals to be made and attached to the BMAP from the first coral cutting.
BML
​
There are weekly routine inspections to make sure that the corals are healthy in the coral trees during their growth. It is necessary to clean the coral tree frames and to measure the corals on a regular basis.
After 9–12 months of growth, the fragments are attached to the BMAP.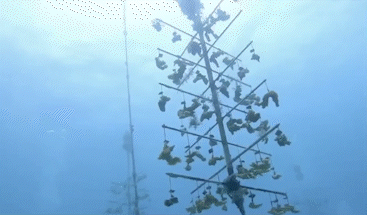 Enjoy the Ocean from home.
Every week, our community will join our BML dive team to care for our corals in real-time and in a truly immersive virtual reality experience.
They will meet the amazing fish, corals, and other species that live in our BML coral nursery. In addition to getting a glimpse of the diverse marine life that calls this underwater haven their home they will meet the corporation members who make this possible by our BLUE MARK CSR Program.
CSR PROGRAM with 200 NFTs
​
Our BML will be turned in an NFT collection of 200 NFTs. Corporations become CSR program members by owning one or more NFTs.
In our BML in the ocean, each NFT will be represented by a coral tree with a sign displaying the name of the member-owner.
Only 200 spots are available to display corporations that are truly committed to protecting the oceans with CSR.
At BML our educational underwater tourist attraction for coral restoration and conservation, each NFT will come to life as a real coral tree to grow 100 baby corals until they can be planted on our BMP reef.
​
​
​
Virtual BLUE MARK LABYRINTH
​
People will be able to see the virtual representation of the BML on our website. When they click on one of the 200 coral trees, they will see a logo and a link to the company that bought that NFT.
​
​
BML: First CORAL NURSERY in the Metaverse
​
The CSR program offers members a presence in the metaverse!
Members will be included in the metaverse when they do CSR.
We will be the first to breed corals in the metaverse.
​
BLUE ELITE CORPORATE MEMBERSHIP
​
​We are a powerful community where everybody is proud to be part of the BLUE ELITE (BE) of human-HEROES and responsible corporations helping to save the oceans and our planet's future with tools of the future: NFTs.
The Ocean needs help, and it is our responsibility to take action!
Our BLUE ELITE Corporative will leave a BLUE MARK to protect the Ocean with CSR supporting the first CSR project made with NFTs.
CSR with
NFTs + ECO-ART
worldwide premier
CSR to raise awareness to generate eco-ethical habits, protect our oceans and natural resources, and respect the Planet.
Be part of the first NFT CSR project!
CSR for
CORAL RESTORATION + CONSERVATION
​
Our BM NFT CSR Program will leave a BLUE MARK in the Ocean by creating a new coral reef park with its own coral nursery, producing 20,000 new corals per year.
Our legacy for future generations!
CSR for
OCEAN PROTECTION EDUCATION with NFTs
​
Virtual reality experiences to enjoy from home.
A new generation of Ocean protectors will be inspired by our unique BLUE MARK NFT CSR Program.
Get your spot in our massive social media education campaign!
CSR for
MARINE TOURIST ATTRACTION
​
Our coral nursery will be a tourist attraction and an important component of marine conservation, that everybody can visit by scuba diving or online with our virtual version
Unique in the world!
CSR with
NFTs with a real WORLD IMPACT
​
We'll utilize NFTs to create a new coral reef with our very own BLUE MARK in the Ocean and in the metaverse!
First SCR Program in the METAVERSE
​
A BM CSR Membership is the first step in making all of this happen, so choose your NFTs and let us do the rest!
​
​
​
​
​
​
​